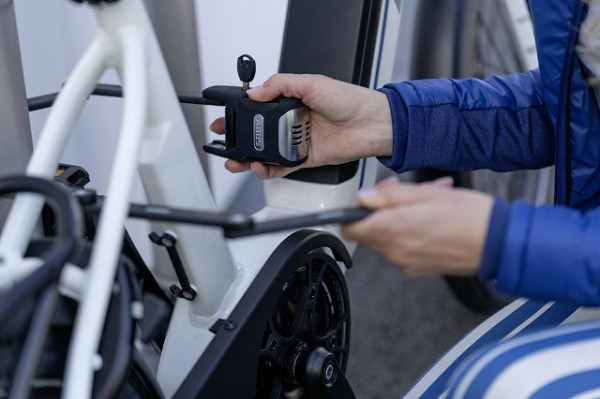 Foldable lock ABUS BORDO Big 6000 - 120 cm
ERIBA

HYMER

HYMERCAR / HYMER CAMPER VAN
Simply send your noted products with the wishlist function to yourself, friends or your HYMER trading partner!

HYMER original accessories are not available ex factory, they are only available directly from your HYMER licensed dealer. Images shown may be subject to modifications.
Suitable for vehicles manufactured by ERIBA, HYMER, HYMERCAR / HYMER CAMPER VAN
Foldable lock ABUS BORDO Big 6000 - 120 cm
The BORDO Big 6000 folding lock (length 120cm) made by ABUS allows you to lock your bicycle (or to lock several bicycles together) with ease. It boasts the optimum combination of strength and flexibility in a compact, travel-friendly size. Trust the pick-resistant ABUS "Plus" disc tumbler lock and the 5mm thick foldable bars, which are made from specially hardened steel and connected with purpose-built rivets. The soft, 2-component coating also prevents the lock from damaging your bicycle's paintwork.
And to top it off, the BORDO Big 6000 is supplied with a coded key. This means that the lock can be ordered keyed alike with other ABUS locks.
Write an evaluation
Evaluations will be activated after verification.