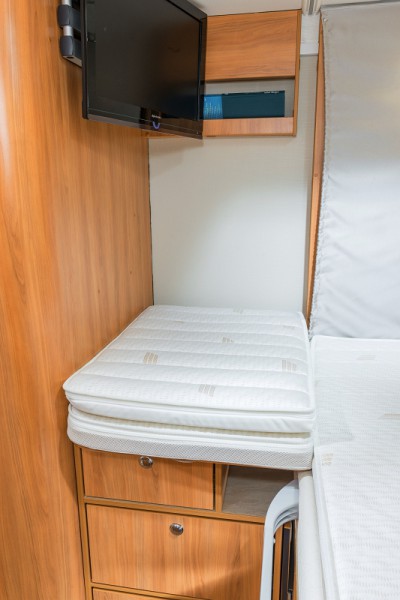 HYMER
Simply send your noted products with the wishlist function to yourself, friends or your HYMER trading partner!

HYMER original accessories are not available ex factory, they are only available directly from your HYMER licensed dealer. Images shown may be subject to modifications.
Suitable for vehicles manufactured by HYMER
Model range / model B SL DuoMobil
Model years 2015, 2016, 2017, 2018, 2019
Mattress topper set
HYMER Mattress topper set includes 3 pieces ( for pull-down bed and two foot rests ) perfect for the HYMER Duomobil.
Like sleeping on air. The newly-developed visco foam in the topper is breathable. It also quickly absorbs moisture and dissipates it to the centre layer and to the side. Even at only a low level of resistance, the foam quickly adapts to the contours of the body and a pressure-relieving effect occurs which ensures improved blood circulation and lying qualitiy when lying for an extended period of time.

Outer fabric: 61% polyester, 39% cotton
Filling: 100% polyester
Height mattress topper: 5.5 cm (of which 4 cm Visco foam + 1.5 cm cover incl. padding), additional weight: 8 kg
Write an evaluation
Evaluations will be activated after verification.