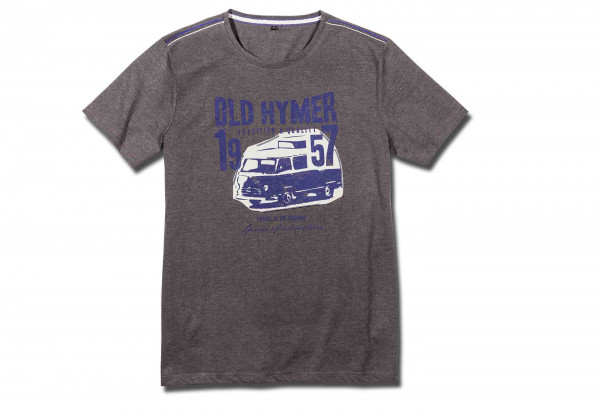 Recommended retail price including the applicable VAT. Prices may vary from country to country.
Simply send your noted products with the wishlist function to yourself, friends or your HYMER trading partner!

HYMER original accessories are not available ex factory, they are only available directly from your HYMER licensed dealer. Images shown may be subject to modifications.
Model range / model Suitable for all HYMER models
Model years Suitable for all model years
Mens Old Hymer T-shirt
A piece of HYMER history attire.
You can now purchase the limited anniversary T-shirt to celebrate HYMER's 60th anniversary.
A bedrock from the HYMER Company was selected to be the motive:
The Caravano – the company's first motorhome.

Material: 70% cotton / 30% polyester
Washing information: 30°C
Standard length and fit complete with a classic round neckline
and printed front – you'll definitely be quite the eye-catcher.
Write an evaluation
Evaluations will be activated after verification.